JÜRG SOLLBERGER
I have always been convinced that a true traveler must be the maker of his dreams. The journey spontaneously leads to freedom and knowledge. That is why I mainly dedicated myself to new projects, sometimes even a little crazy, which then became classics of adventure travel. Even as a boy, I was a dreamer, a rebel. I wanted to be free to go where I wanted. It was almost inevitable that even in my feelings I would look for and find a person, a woman able to share (and bear...) my character. Therefore, it was with Doris, who actively shares my adventures. I happen to be impulsive, to carry out courageous projects, but from a technical and equipment point of view, I think I am very strict. Maybe that is why they asked me to be a travel consultant and experimenter. Even Autohome asked me. Since the '90s. Also in those years, I started to take courses as a trans-Africa tour instructor. We began to put Autohome products to the test in Asia, developing the world of travel-adventure in the East. For example, on one tour I touched "extreme" sites in China, Burma and Tibet. During numerous expeditions and events, I publicly thanked Autohome as "Superior rooftent". The reasons? Let us see some of them together. Taking for example my favourite curtains and some accessories.
COLUMBUS®
I start with Colombus whom I love very much, especially because she is taller than normal: she reaches 160 centimeters. I directly experienced what this comfort means: I am over 190 centimetres tall and I am also sturdy. It is no coincidence that I chose the X-LONG model of 2.30 centimeters. Inside the tent, I can comfortably change my dress. Wearing fresh, clean clothes after hundreds of miles is an absolute pleasure! I also appreciate very much that the two shells are directly hinged to each other on the front, so the lowered roof is more supportive to the base and has no support mechanisms. Very functional is also the large rear opening that I can customize. I like the arched design of the two large doors on the sides that also become windows. The fabric is Airtex technology, perfectly waterproof and of high quality, but above all it is not bulky and folds easily into the tent. I therefore believe that Columbus is the tent for a dynamic and concrete itinerant journey, for those who travel at every sunset, ideal for those who demand the essential but do not want to give up comfort.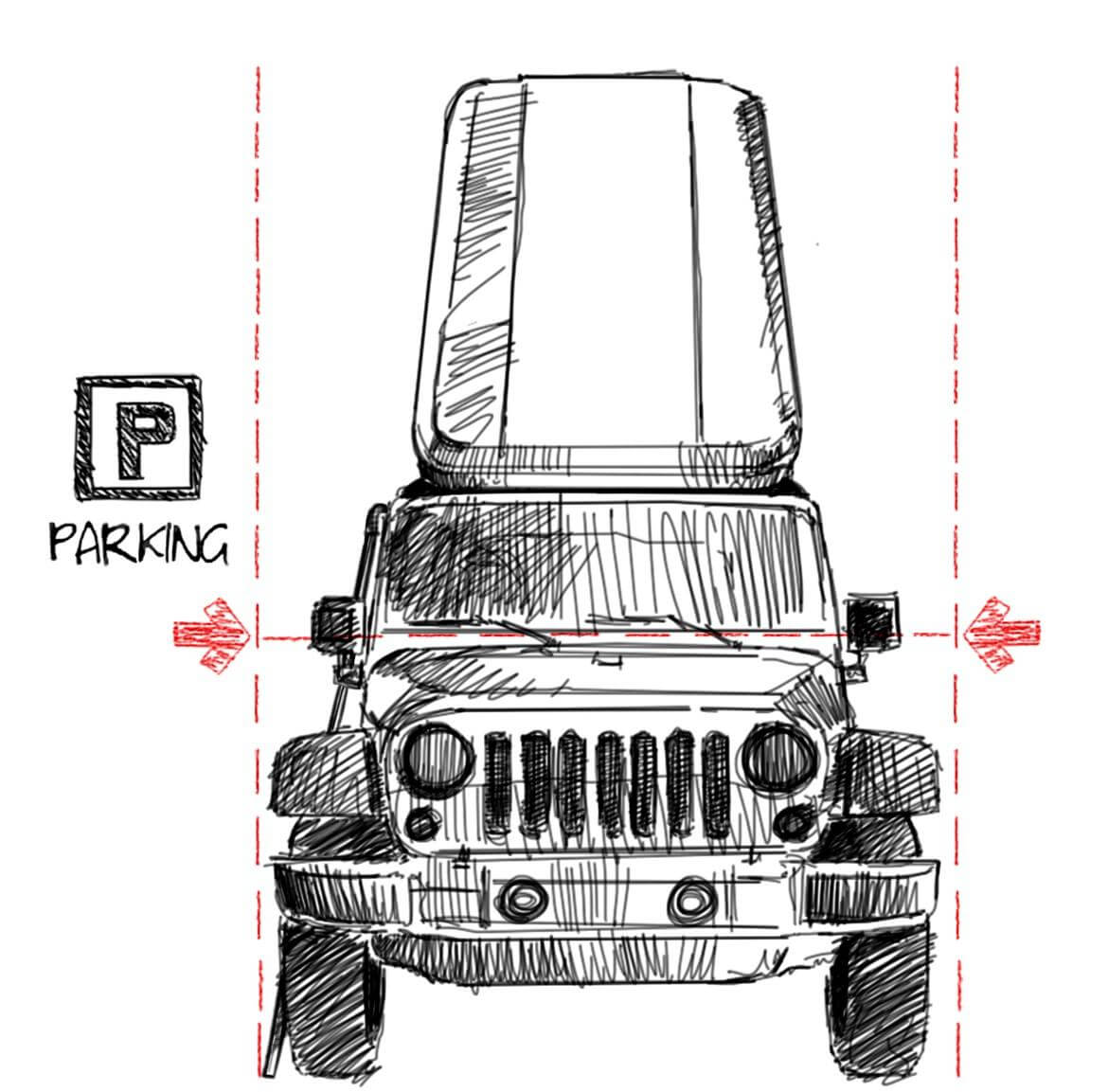 Wings
Let us see Wings. When I first saw the typical "bat wings" I thought they were really what the Maggiolina series needed! Creating 160 cm coverage at the entrance to the tent is an advantage for several reasons, especially if it does not hinder the movement of the tent. In practice, you get a large protected entrance that allows you to take off your shoes without staying under water, for example. In fact, very comfortable are the hooks for slippers or boots, which remain hanging on a corner of the cover. In addition, when you wake up in the morning, in case of rain you are not immediately under water. With Wings, the advantages are also under the sun: in the case of high temperatures, the awning doors can in fact remain fully open to facilitate the recirculation of air, while remaining protected from water, sunlight and prying eyes, thus ensuring greater privacy. Therefore, it is a great idea, and what's more, there is no work to be done on the tent: no holes in the shells, nothing! The Wings are easily applied simply by acting with a special support pole that hooks into the slots under the roof, everything is provided as standard.
Accessori Autohome®
Finally, I tell you about some other Autohome accessories that I often use. First of all, the winter hood. I tested its pleasant function both as an additional protection against cold and sudden changes in temperature and as a "collector" of heat in the early morning sun. A piece of advice: when you mount the hood, it is best to keep a few windows ajar, in order to have enough air circulation to let the humidity out. Equally functional is the locker room cabin. I experienced many times how useful it can be to have an environment connected to the tent. You can change your clothes, of course, but you can also keep your personal belongings, store other accessories or equipment and so on. Security, but also privacy: you have an additional protected area, completely lockable on all 4 sides. It is a rational accessory also in the assembly: it is in fact made with a few poles that hook quickly to the roof tent. In many travel and camping situations, awnings and verandas are valuable. The first is a very useful accessory when you want to get a big cover at the entrance of your tent, to protect yourself from sun and rain. In the easiest way, you can create a space to have lunch or relax in the shade. I remind you that the awning can be hooked on both sides of the awning and can be used in combination with a changing room cabin or awning. In this way, you get a complete system of sun and weather protection. With the veranda, you have a self-standing structure that remains mounted and stands alone, without the need to have your car near. A protected space to store things when you leave the tent. Particularly convenient is being able to quickly put your sports equipment away. Installing the veranda is also very useful to guard your camping site, avoiding to find it partially invaded by other campers.