A COMPLETE RANGE OF MATCHING ACCESSORIES FOR A COMFORTABLE STAY
The self-contained veranda can be set up easily and quickly, and is recommended for long stays or holidays in one location. Matches Maggiolina creating a large protected space for cooking, dining, additional sleeping room and all holiday accessories.
An extremely popular, independent structure allowing you to drive away leaving your equipment well protected.The equipment can be left in the campsite, closed and sheltered even when the vehicle is being used for a quick visit, shopping or to suss out a place to visit.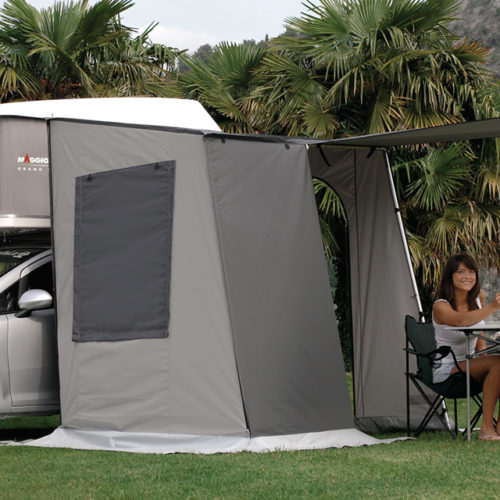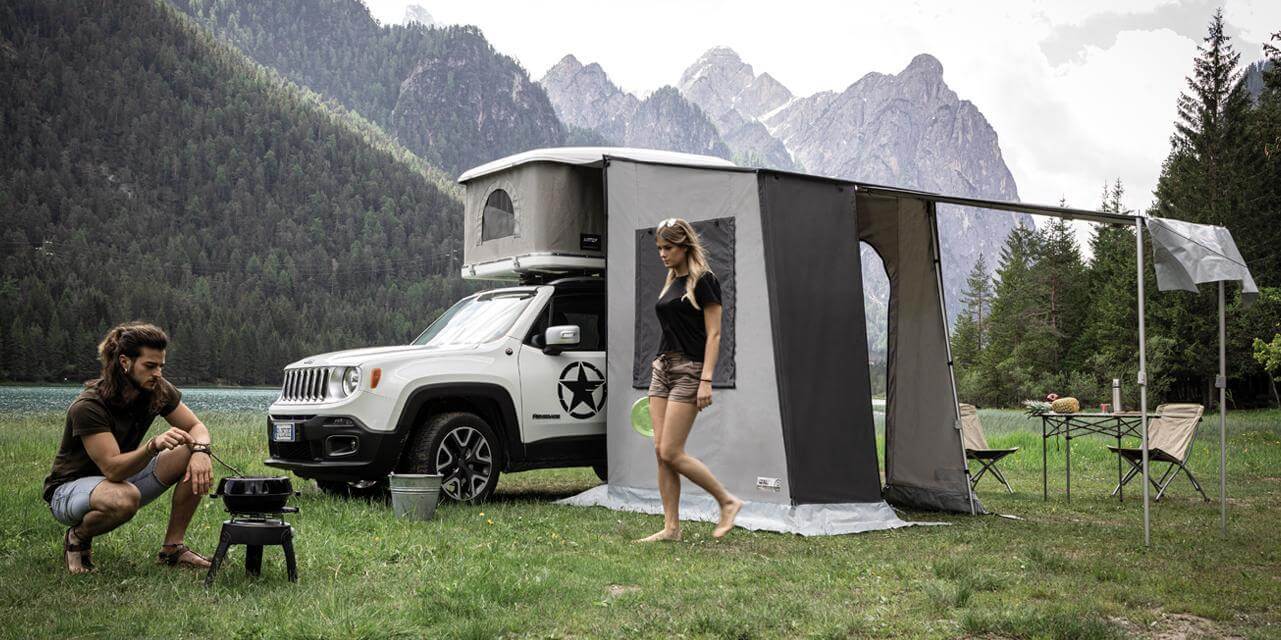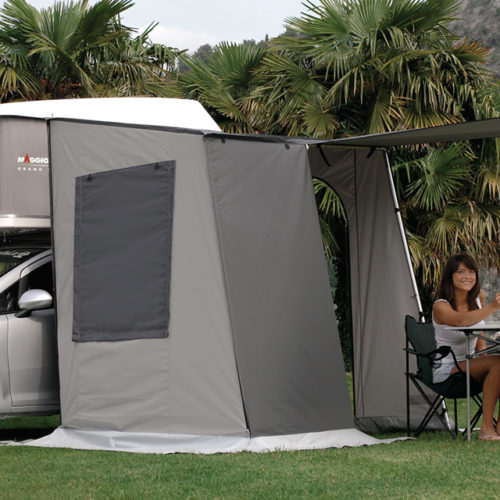 INDIPENDENT VERANDAH
(FOR CARS)
Art. M/05A - cm 200 x 160 x h 240

AL The framework is constructed from round anodised aluminium poles- AIRTEX® tissue.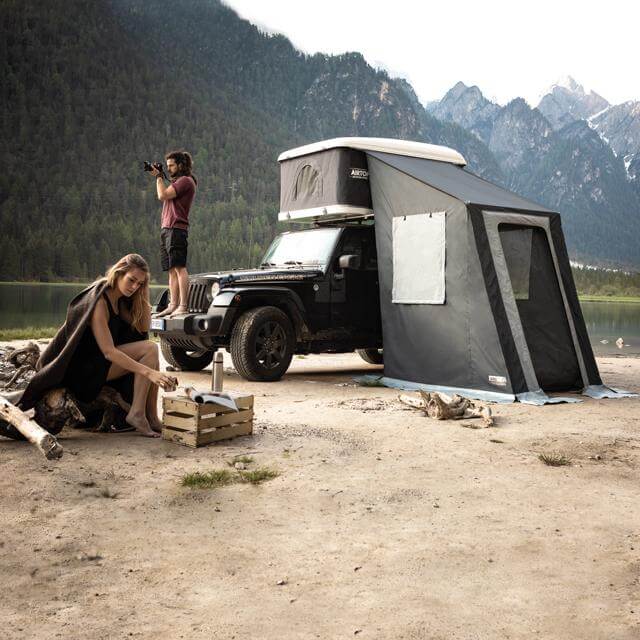 MORE PRIVACY WITH THE CHANGING ROOM
An additional space protected and closed on all four sides. The adjustable pared-down aluminium poles hook onto the Maggiolina quickly and without fuss. The entrance is a zipped arch opening both sides, with side ladder for easy access to the Maggiolina covering the vehicle windows. On the side opposite the entrance the cabin is fitted with a large window with mosquito net. Various heights are available according to the vehicle make and height. The standard measurements are: for cars and Sw 140 x 170 cm, for 4WDs, SUVs and vans.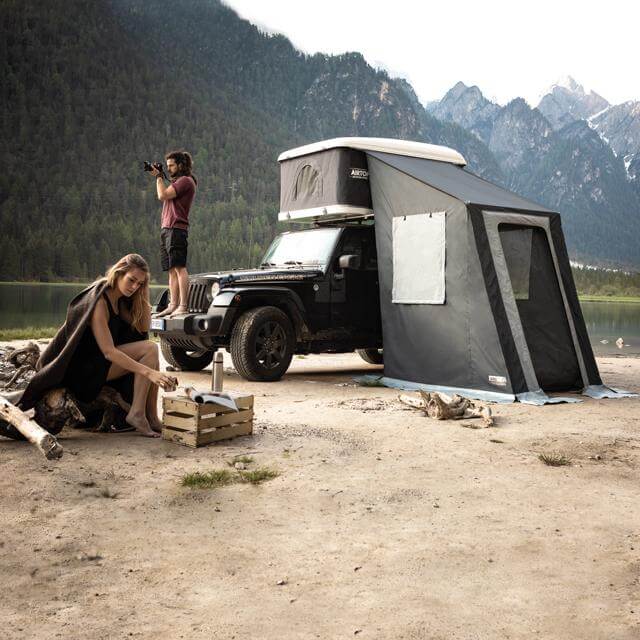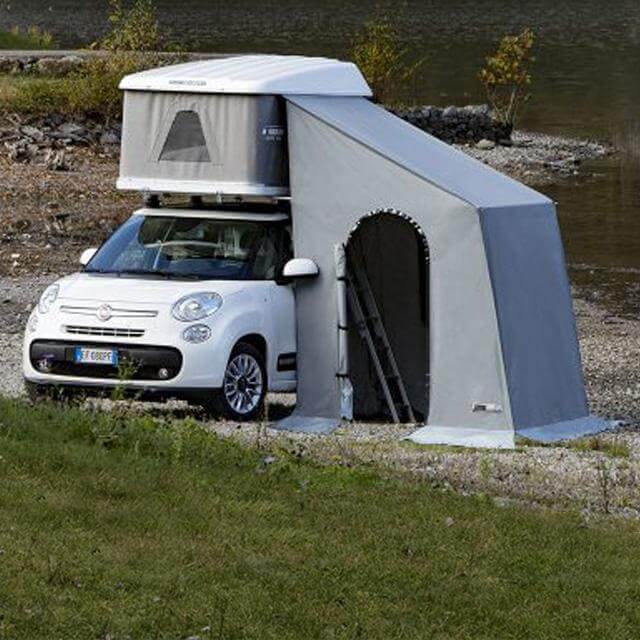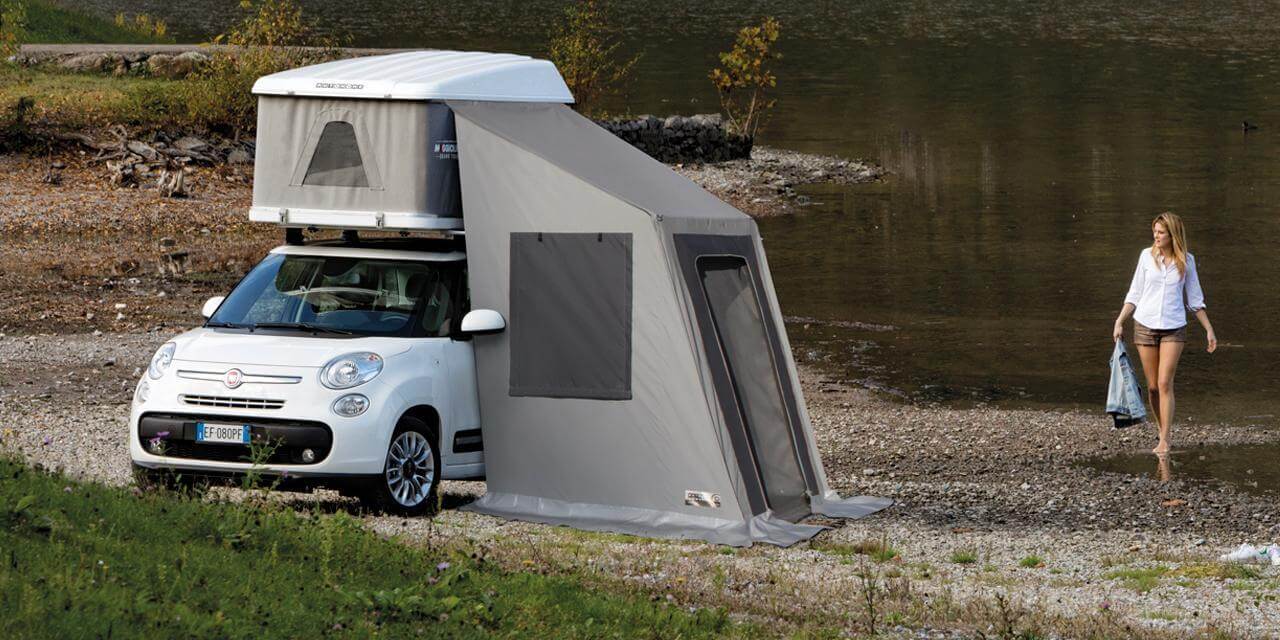 CHANGING ROOM
(for cars) Art. M/12A – cm 140x170x h 170
CHANGING ROOM 4X4
(for vans and 4 wheel drives) Art. M/13A – cm 140x170x h 220

The framework is constructed from round anodised aluminium poles- AIRTEX® tissue.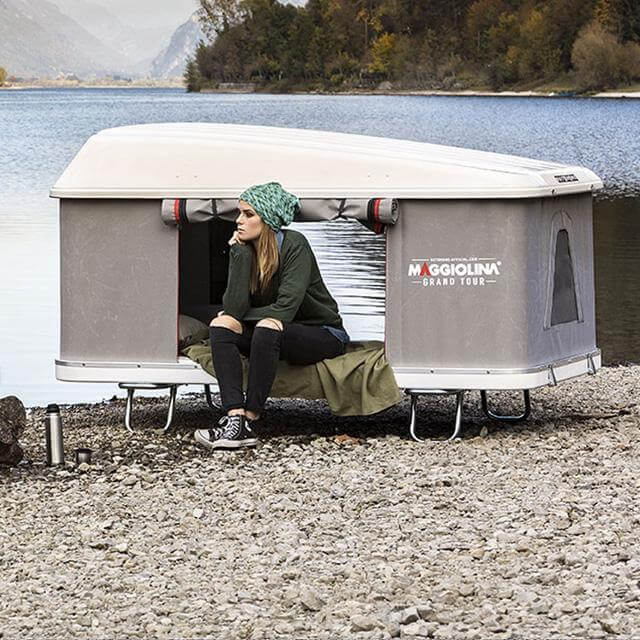 FEET
Art. M/09A
Four strong feet allows you to place Maggiolina on the floor if desired. Measuring 25 cm high a safe distance from floor humidity, water, insects, stones etc.
Foldable and clutter free they can be installed in any desired position. Useful in camping sites or residential areas which prohibit the entry of vehicles during the night.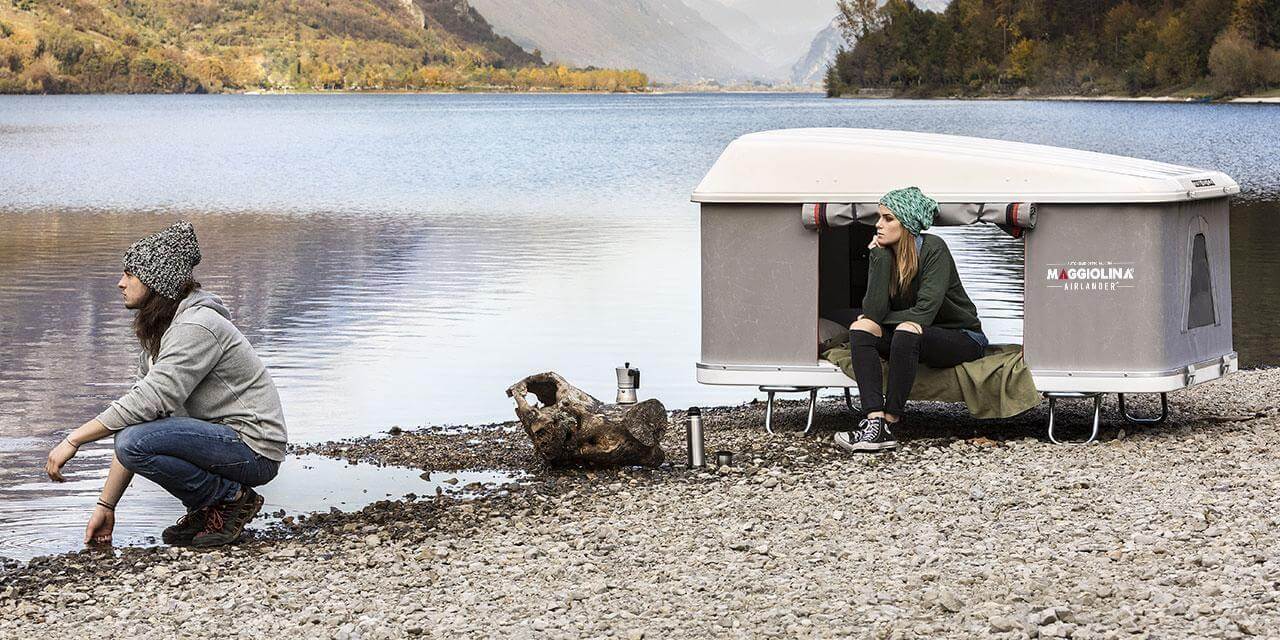 AWNING
(for cars) Art.M/11A-1
AWNING 4X4
(for vans and 4 wheel drivers) Art. M/11A-2

The framework is constructed from round anodised aluminium poles- AIRTEX® tissue.
Easy and quick to set up, it creates a shaded area for cooking, dining and relaxing, or – most importantly - as a shelter from the rain.
Roof size: 200x160 cm.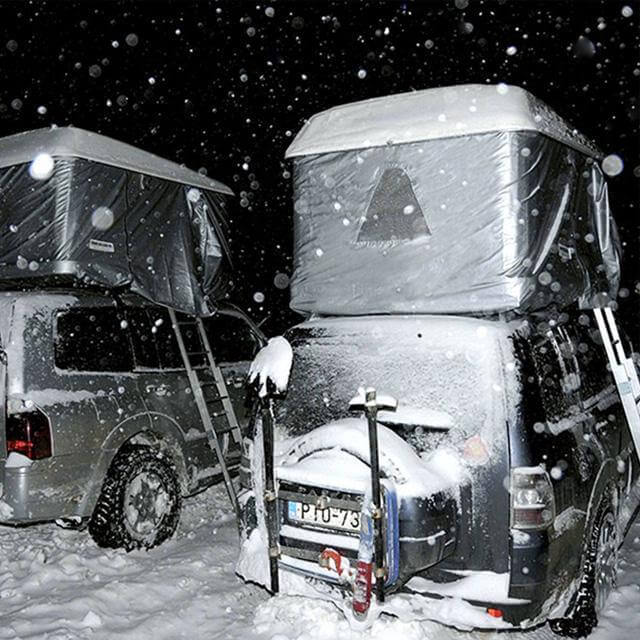 WINTER HOOD
Art. M/10A
Made of resin bonded nylon fibre and aluminium powder. Excellent protection from the burning effect of the suns rays, and equally useful for extra insulation in colder conditions.
Quickly attached, by Velcro strips, and removed, it can also provide additional protection in the most extreme of conditions. Can be left in situ when closing the tent.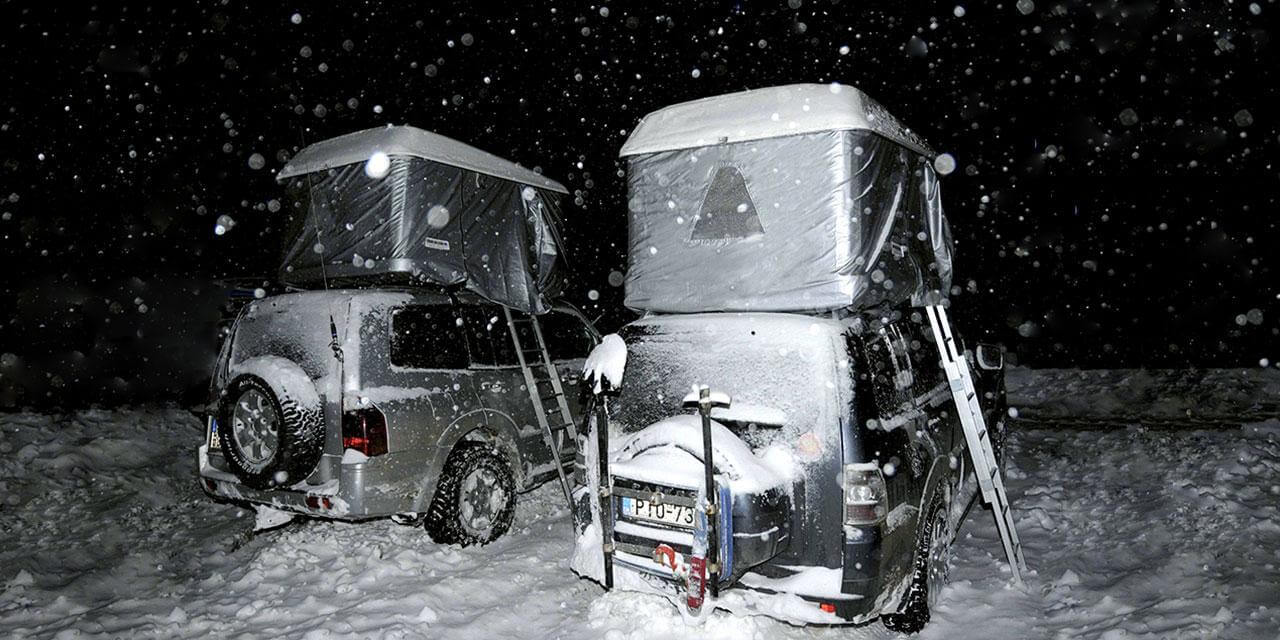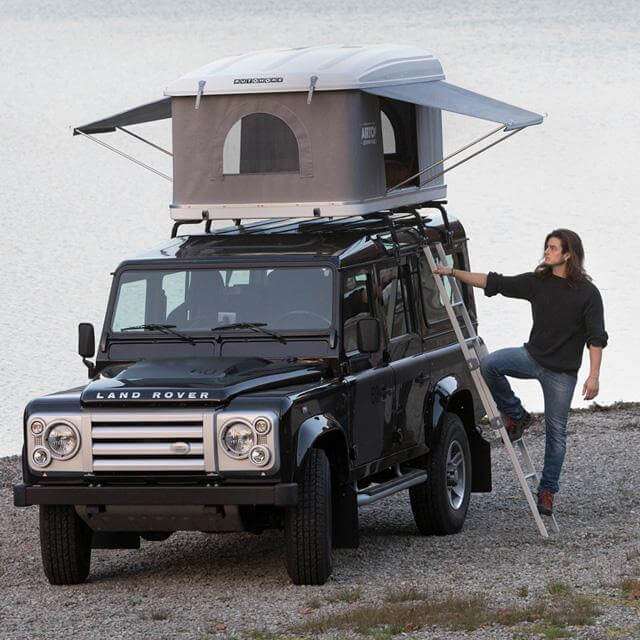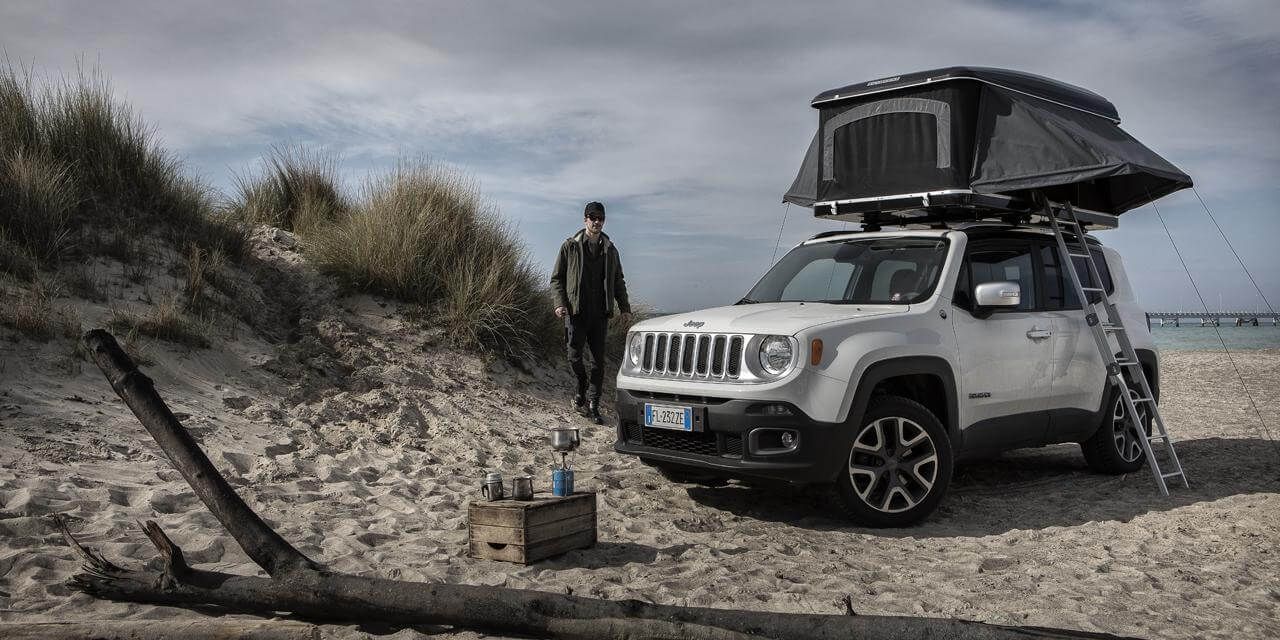 WINGS
Art. M/W01 (for all models Small/Medium, except Grand Tour)
Art. M/W02 (for all models Large, X-long and Grand Tour series)
Entrance protection for additional shelter in case of rain. Simple, easy to use and much appreciated by customers. Made of Airtex fabric with windproof structure, aluminium and steel, space saving.

The framework is constructed from round anodised aluminium poles. Textile: AIRTEX®
AWNING ROLLING TOP
Art. R/TOP - S cm 180x180 Art. R/TOP - M cm 220x225
Perfectly in line with the well-known practicality of Maggiolina, Autohome has created an awning that is both strong and easy to fit. It can be folded away and stored in an anodized aluminium box to be fitted on any roof rack.

The framework is constructed from round anodised aluminium poles