THE TESTER'S OPINION
Paolo Marin, founder of Photo Challenge "the journey within everyone's reach" is a renowned expert in the world of adventure; a passionate tester and an illustrious supporter of roof top tent Autohome products.
In his job he has tested everything from the best 4x4 over long journeys, to vintage cars in the famous 1000 Miglia motor race, not to mention motorcycles, quad bikes, camper van, trucks, electronic instruments and outdoor equipment.His journalistic review, together with his advice in general, have been printed in prestigious, theme-specific publications.
Below is a brief newspaper article that Autohome wished to highlight and, for whichto publicly thank Mr. Paolo Marin.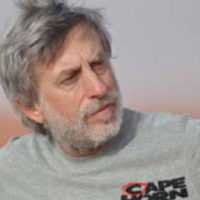 AUTOHOME, THE ROOF TOP TENT
With Autohome, hundreds of thousands of tourists have overcome the problem, in the best possible way, of how and where to spend the night. A safe, comfortable shelter, up close and personal with nature. The roof tent encompasses so many benefits that, once experienced, it is difficult to give up.
It is always ready for use, and is easily packed away when not required.
It takes just minutes to put up on the roof of any type of car - from city cars to people carriers, from vans to 4x4 vehicles. Amongst the customers most taken with Autohome's products are many famous explorers, who appreciate the products' robustness and incredible practicality, as well as young couples who have found the solution to their holiday on a budget.
A SELF - PAYING PURCHASE
It only takes a few weekends away, or that one extended, seasonal holiday and the roof tent has already paid for itself. From then on, every other trip becomes cheap and within the reach of everyone, providing the very domocratic situation of being able to sleep for free. There are no maintenance costs and every oppurtunity to get away becomes a good one - be it a cultural, city break or one in the midst of nature. One thing is always certain though: the peace of mind that the roof tent gives you in knowing you don't have to search for a place to sleep.
THE ROOF TOP TENT –  IT'S A WINNER
We are convinced it is a winner in comparison to the traditional ground-pitched tent because the roof tent contains the mattress, the pillows, the covers and everything necessary for the night, and so leaving lots of space in the car.
You are also sleeping on a real bed, without the uneven ground and  hard lumps pressing into your back – something anybody  having passed at least one night in a traditional tent is familiar with. In addition, you are sleeping raised clear of the ground, well away from the hidden dangers of the night, away from insects and the damp. Wherever and whenever you stop, the roof tent is always ready to guarantee you a comfortable rest – no struggling and bending down to the ground, no stretching sheets and hammering in pegs.
It is also a winner when compared to camper vans. Even though it might not offer the same levels of habitability and services as the camper van, it does have the same comfortable bed and, in recompense, does not have problems associated with its size, with manoeuvrability and with parking as with the camper van. Above all, it does not have the camper van's high running costs, extra expenditure on insurance and on road tax, not to mention the cost of purchase.
It is a winner also when compared to the caravan or the trailer tent:
no trailer to tow, no manoeuvring or parking difficulties, free access everywhere, lower motorway and ferry costs by not having to pay trailer supplements. Finally, roof tents do not require maintenance and can be placed anywhere without requiring garaging, unlike the camper or caravan.
EACH TO HIS OWN
Experience accrued over the years has enabled Autohome to produce the biggest and most tested range of roof tents. There are different solutions, dimensions, colours, materials and numerous accessories so that anyone is able to find the right tent to match their vehicle and specific requirements. Many tents for many tastes, but always with the finest quality available in today's market.
A QUICK-CHANGE TENT
The roof tent is the ideal solution for the multi-stop holiday; always ready to give shelter wherever you may find yourself. But if you decide to stay on one campsite for a while, the roof tent transforms and grows: it can be pitched on the ground, placed on specially-made feet whilst still keeping it raised from the ground, it can be enlarged using specially-made attachments creating an additional living space for improved habitability.
Why should I buy an Autohome?
Autohome is not "number 1" by chance.
Because Autohome knows how to bring together imagination and the quality of "Made in Italy".
Because Autohome does everything possible to give you a restful sleep.
Every Autohome tent is the result of the experience and advice of famous travellers. A marriage of our skills with theirs to create a complete range of tents.
Quality, reliability, comfort and a large number of accessories.
Because Autohome does everything not to disappoint.
Text by Paolo Marin