"High Performance" by Autohome
The best in terms of performance and quality. And that's that!
With closures, we have gone beyond the usual and the standard, creating a technological product that is of the highest quality in terms of materials, devices and design. Our innovative "High Performance" doors and windows are made of aluminium and steel, purpose-designed for our shells to get the best out of them. There is just nothing like it in the market. Just the same old cold-rolled plate. Our doors and windows are strong, reliable, durable and ideal for off-road adventure, even in the toughest driving and camping conditions.
Distinctive advantages, up to TUV standard:
-Processing: made from the extrusion of solid aluminium rods, suitable cut
-Strength: in thick reinforced aluminium with a stainless steel core, able to handle the toughest mechanical forces and harshest environmental conditions
-Ergonomics: comfortable and easy to close
-Versatility: adjustable closing for unstinting performance over time
-Practicality: a special spring device to get rid of hanging parts when open
-Safety: fitted with "Press Lock", an automated system (easy to activate) to ensure perfect closing.
-Quality certification: 2 closures on the front, located on the surface most exposed to the air impact, to guarantee greater safety in the event of high driving speed, and only 1 closure behind, as asked and certified by the certification body TUV SUD.
And more…
They are elegant and transform practicality into style with an exclusive design created by Autohome.

Details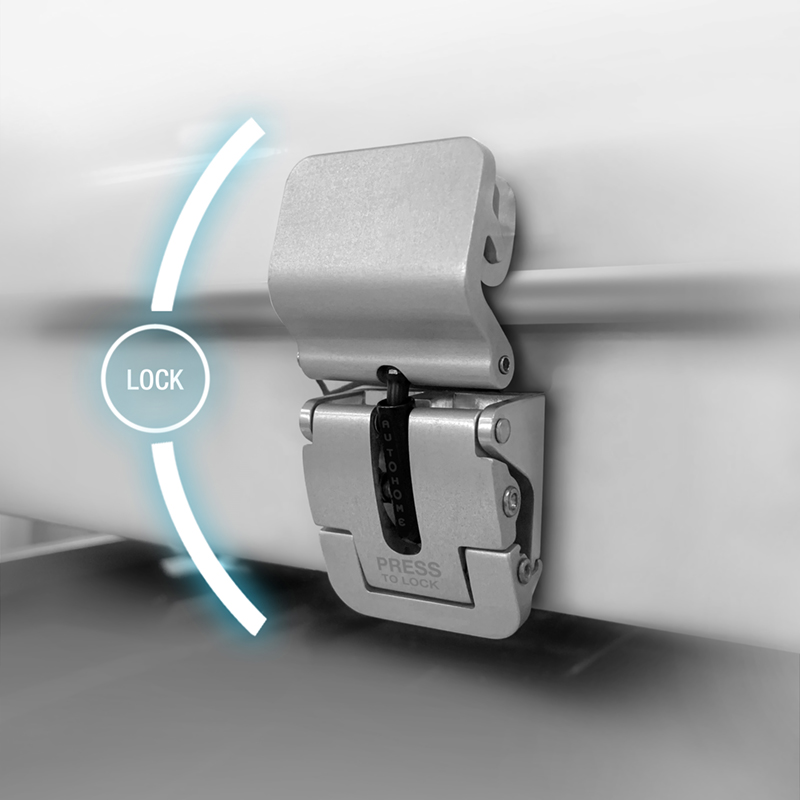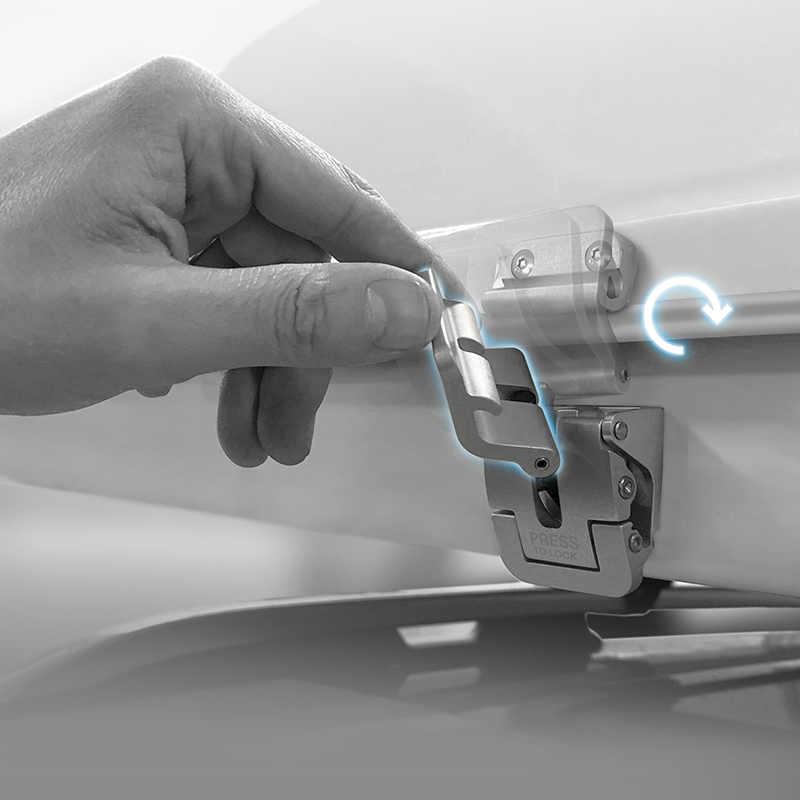 THE CLOSURE WITH KEY LOCK BY AUTOHOME
NEW 2021
The new security technology with key lock is devised and it is suitable for roof tent models that open with gas springs: an upgrade on demand for Columbus and Airtop range. It is not necessary on Maggiolina models with crank opening (without the crank handle the shells cannot be opened). The crank handle acts as an antitheft system for all the internal luggage: bags, blankets, beauty-case, and valuable objects remain well protected.
PREVENTING IS BETTER THAN SUFFERING!
To avoid thefts and unpleasant surprises, the contents and personal belongings inside the roof tent must be adequately protected. How? Autohome took care of it!
In the constant effort to perfect its products, Autohome adds a new important solution: the possibility of locking the roof tent. A very useful device to protect yourself from criminals and live your trip with greater serenity. The special lock, specifically designed for this use, is integrated into the closing hook.
The device permanently replaces unreliable devices such as improvised belts, steel cables or "DIY" chains. It also avoids using locks, unstable and not very rational, which can generate vibrations and discomfort while travelling.